Welcome to Cats Wiki!
Hello, all cat owners and cat lovers!

The Cats Wiki is a place for cat lovers to write about their pets, to share advice on cat care, to collect data about different cat breeds, and to write about anything related to cats.
---
We currently have 396 articles, 902 uploaded files and 5 active members since 16 March 2006!
About This Wiki
This encyclopedia was created to collect information on cat breeds, locations, and much more. If you are interested in contributing, see our most wanted pages, or view recent changes where you can see and assist in current efforts. We hope your visit is an enjoyable one. Enjoy the site!
Featured Article
Tabby Cat
A tabby is a cat with a distinctive coat that features stripes, dots, or swirling patterns, usually together with an "M" mark on its forehead, also known as "Mackerel tabbies". The tabby pattern is found in many breeds of cat, as well as among the general mixed-breed or mongrel population.
---
---
Random Media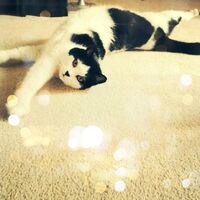 ---
A new featured image displays every time you load the main page! Enjoy!
---
Ad blocker interference detected!
Wikia is a free-to-use site that makes money from advertising. We have a modified experience for viewers using ad blockers

Wikia is not accessible if you've made further modifications. Remove the custom ad blocker rule(s) and the page will load as expected.