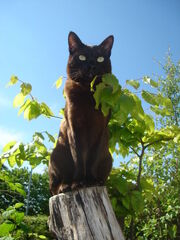 The Asian is a cat breed similar to the Burmese but in a range of different coat colours and patterns. The breed was developed in Britain, starting with a litter of kittens bred in 1981 by Baroness Miranda von Kirchberg. Asian Shorthairs are classified in four different varieties: the Asian Self (including the Bombay, which is a black Asian Self), the Asian Tabby, the Asian Smoke and the Burmilla (which is a shaded Asian). Longhaired Asians of all varieties are called Tiffanies. Asians are grouped in the foreign section at cat shows.
External links
Edit
Ad blocker interference detected!
Wikia is a free-to-use site that makes money from advertising. We have a modified experience for viewers using ad blockers

Wikia is not accessible if you've made further modifications. Remove the custom ad blocker rule(s) and the page will load as expected.