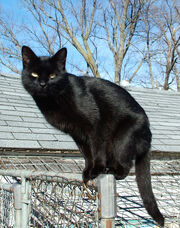 A black cat is a feline with black fur. It is not a particular breed of cat and may be mixed or of a specific breed. The Bombay, known for its sleek black fur, is an example of a black cat.
The all-black pigmentation is equally prevalent in both male and female cats. In some cultures black cats are considered good luck, and in others they are considered bad luck. For example, in the United Kingdom black cats mean good luck; but in the United States they mean bad luck. However, the cats are all the same and should never be killed during Halloween or be classfied as bad.
Main article: Cultural Depictions of Cats
Ad blocker interference detected!
Wikia is a free-to-use site that makes money from advertising. We have a modified experience for viewers using ad blockers

Wikia is not accessible if you've made further modifications. Remove the custom ad blocker rule(s) and the page will load as expected.