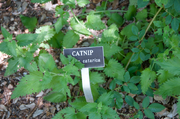 Nepeta is a genus of about 250 species of flowering plants in the family Lamiaceae. The members of this group are known as catnip or catmint because of their effect on cats—nepeta pleasantly stimulates cats' pheromone receptors, typically resulting in temporary euphoria. Catmints are also used in herbal medicine for their mild sedative effect on humans.
The genus is native to Europe, Asia, and Africa. It is now also common in North America. Most of the species are herbaceous perennial plants, but some are annuals. They have sturdy stems with opposite heart-shaped, green to grayish-green leaves. The flowers are white, blue, pink or lilac and occur in several clusters toward the tip of the stems. The flowers are tubular and spotted with tiny purple dots. The most commonly found Catmint is Nepeta cataria, roughly 50% of cats are affected by the herb, and even big cats are known to favor it.
Ad blocker interference detected!
Wikia is a free-to-use site that makes money from advertising. We have a modified experience for viewers using ad blockers

Wikia is not accessible if you've made further modifications. Remove the custom ad blocker rule(s) and the page will load as expected.