Main article: Cat Anatomy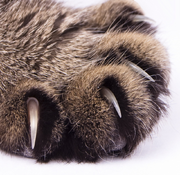 Claws are located on the cats paws, and are used for scratching, climbing and attacking. Cat's claws are retractable, unlike dogs who cannot retract since their skin is not elastic.
Most cats have five claws on their front paws, and four or five on their rear paws. Because of an ancient mutation, however, domestic and feral cats are prone to polydactylism, (particularly in the east coast of Canada and northeast coast of the United States) and can have six or seven toes. The fifth front claw (the dewclaw) is proximal to the other claws. There is a protrusion which appears to be a sixth "finger". This special feature of the front paws, on the inside of the wrists, is the carpal pad, also found on the paws of big cats and dogs. It has no function in normal walking, but is thought to be an anti-skidding device used while jumping.
Ad blocker interference detected!
Wikia is a free-to-use site that makes money from advertising. We have a modified experience for viewers using ad blockers

Wikia is not accessible if you've made further modifications. Remove the custom ad blocker rule(s) and the page will load as expected.