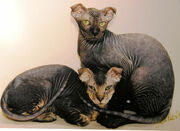 The Ukrainian Levkoy is a cat.
The Ukrainian Levkoy's originated in Ukraine, as the name states. The breed began in 2000 by Elena Vsevolodovna Birjukova working in Ladacats, Kyiv, Ukraine. The first registered Ukrainian Levkoy was called Primero and was born on 21 January, 2004. More than 200 Ukrainian Levkoy's are registered. Many Levkoy's are in the fourth generation. And only ten live outside the former Soviet Union.
Appearance
Edit
The Ukrainian Levkoy has a complete lack of fur and folded ears, much like the Scottish Fold. This may be because a Sphynx and a Scottish Fold mated. It also has almond shaped eyes. The male is larger than the female. Levkoy's are generally muscular and are medium sized cats.
External links
Edit
www.wikipedia.org/ukrainianlevkoy
Ad blocker interference detected!
Wikia is a free-to-use site that makes money from advertising. We have a modified experience for viewers using ad blockers

Wikia is not accessible if you've made further modifications. Remove the custom ad blocker rule(s) and the page will load as expected.