A cat-kicking creep was busted by cops Monday after he was caught on video heartlessly booting a trusting stray — sending the animal spinning through the air before it landed behind a bush some 20 feet away.
Andre Robinson, 21, lured the cat closer to him by holding his hand out, like he wanted to feed the feline. But then he attacked it as an NFL placekicker does a ball — and celebrated as if he had made a game-winning kick. The video shows him bouncing gleefully from foot to foot in a depraved parody of an athlete's victory dance.
With shouts of laughter from his posse, Robinson, sporting flashy red-and-white sneakers, a gray baseball cap and red sweatshirt, broke into a twisted, open-mouthed grin.
His stomach-turning display of cruelty included him waving his hands in the air as he swaggered for the camera, cackling madly while holding what appeared to be a cigarette in his left hand.
Video of the vicious attack on Friday was posted on Facebook and circulated for days before police saw it Monday, identified the location in Bedford-Stuyvesant and then Robinson himself, and tracked him down.
Dozens of people had written angry comments on Facebook and shared the video online in hopes someone would recognize the sicko. "This is NEVER okay to do. Please share; hopefully somebody will recognize this fool," wrote one disgusted Facebook commenter. An online petition included more than 2,000 signatures.
He's the hottest cat in town.
Read more: http://www.nydailynews.com/new-york/nyc-crime/cat-flying-kick-heartless-creep-bk-article-1.1780412#ixzz319xUTVAA
He's the hottest cat in town.
King, the tough kitty that survived being kicked on camera by a Brooklyn punk, has been inundated with adoption inquiries from New Yorkers moved by his plight.
The gray-and-white stray from the Brevoort Houses remained hospitalized Wednesday a day after rescuers removed him from the Bedford-Stuyvesant stomping grounds of 21-year-old A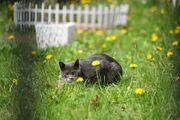 Andre Robinson, the man charged with attacking him.
King is being evaluated at the ASPCA Animal Hospital, said spokeswoman Rebecca Goldrick.
Robinson was arrested Monday after the Daily News posted sick footage of him kicking the cat — and then laughing about it — on its website.
Read more: http://www.nydailynews.com/new-york/resilient-cat-swarmed-adoption-requests-article-1.1783866#ixzz319xlqvkl
Ad blocker interference detected!
Wikia is a free-to-use site that makes money from advertising. We have a modified experience for viewers using ad blockers

Wikia is not accessible if you've made further modifications. Remove the custom ad blocker rule(s) and the page will load as expected.