Introduction
Edit
WCF has more than 370 single organizations, distributed worldwide,also in the United States. WCF is an internationally operating federation, officially registered in the registration court in Germany.
WCF participates in the consultations of the European parliament in Strasbourg, it is co-responsible in the development of animal protection laws by working in the corresponding working groups installed by the legislative organs and participating in parliamentary hearings. A member of WCF, whether a single club or an federation, acts independently in his business.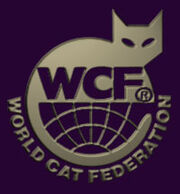 Ad blocker interference detected!
Wikia is a free-to-use site that makes money from advertising. We have a modified experience for viewers using ad blockers

Wikia is not accessible if you've made further modifications. Remove the custom ad blocker rule(s) and the page will load as expected.